Dealership for:
Sherwood
Oceanic
Harveys
Poseidon
Dive Link
Whites Dry Suits
Sea Life Cameras

Princeton Tec
Ocean Reef
Trident
Genisis
Akona
Bodyglove
Sea and Sea
St Moritz watches

JBL Spear Guns
Reefmaster
Lights and Motion
FANTASEA Line


plus dozens of accessory companies
JUST ARRIVED!!
SEA LIFE Micro HD+



The first permanently sealed underwater camera
Capture the tranquil beauty of the undersea world with the first permanently sealed, flood-proof underwater camera. The Micro HD+ has no doors or openings that could possibly leak. With 32GB of onboard memory and a high capacity internal battery, there's no need for memory cards, batteries, O-rings, or maintenance.
OCEANIC OMEGA 3 & FDXI
with patented Dry Valve Technology (DVT)

Omega 3


The Next Great Thing - OCEANIC VTX computer
Features include: air-integration, air time remaining, OLED color screen, digital compass, Bluetooth ready, 4 nitrox mixes plus much more!.

Neptune Space G.divers
The NEW LINE of FULL FACE MASK
for the Sport Diver from OCEAN REEF
Colors available (emerald, cobalt, white and pink)
2 year warranty • Very affordable to recreational divers
WHITES DRY SUIT
with Seal Lock Technology
DIVE WARM tru the WINTER!!
OCEANIC USA PRODUCT LINE of Mask, Fins, Snorkels
7% of SALES will go to the Oceanic Warrior Program
go to OCEANIC.com for details
Oceanic Warrior Program
Oceanic Launches Exclusive New USA Product Line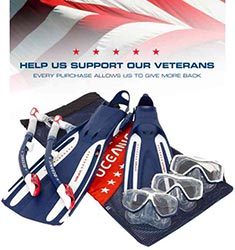 The USA product line is attractively styled, appropriately in red, white, and blue. 7% of Oceanic's sales from the USA line will be committed each year towards this program. We anticipate that this program should provide $250 to qualified veterans.
The $250 will be applied directly to the veterans gear purchases.

It's a great feeling to know that you are giving back to those who gave so much.

Wounded Warriors: Download your application here.
DRY CASE "DRY BACK PACK" are NOW in stock
"DRY CASE" for your Phones, Mp3's and iPads
We have been an Authorized Oceanic Pro Dealer since 1981